03. December 2020
German-British Christmas Carol Service live in your living room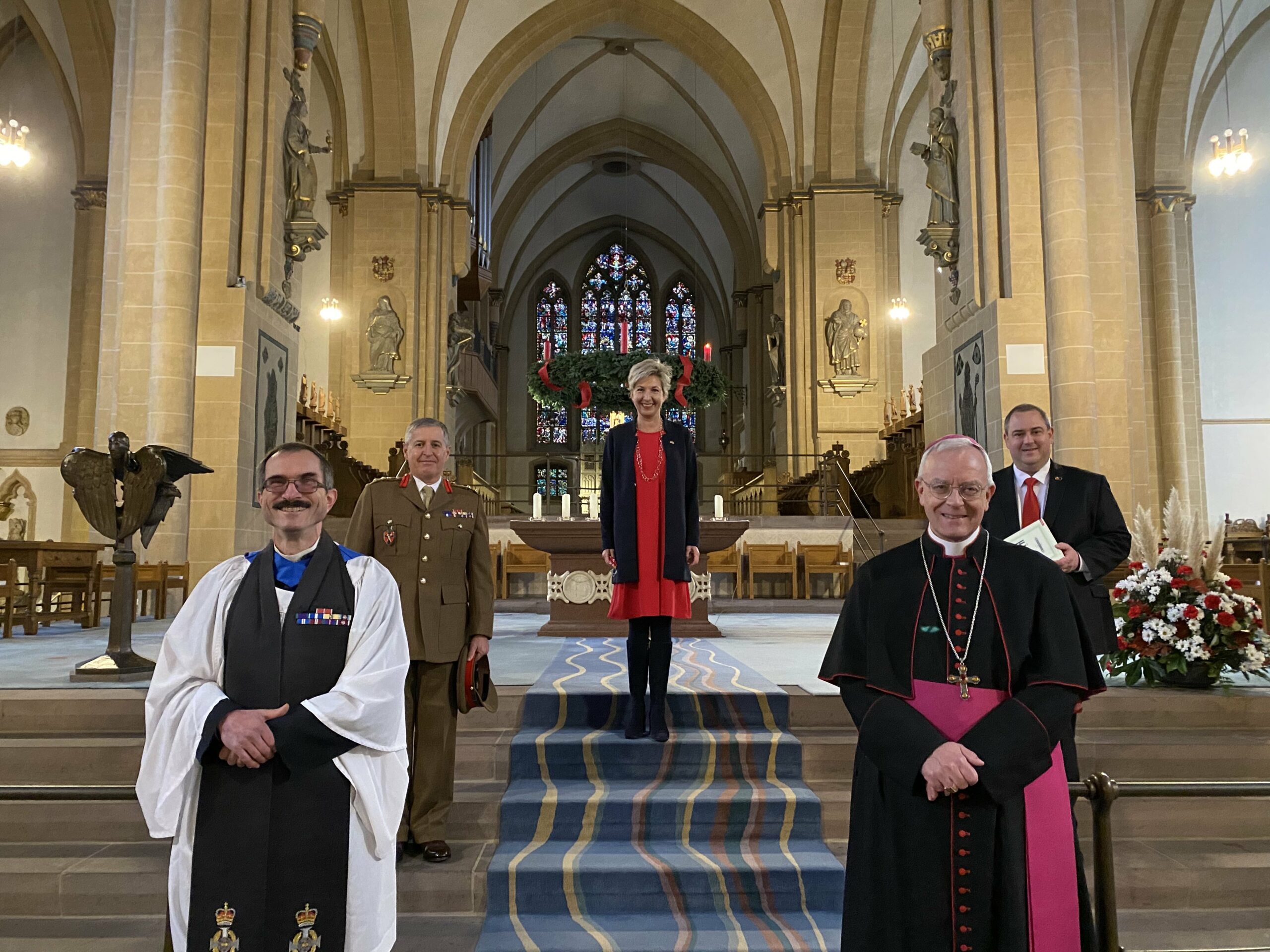 German-British Christmas Carol Service
Different but still as nice as always – the German-British Christmas Carol Service
German Adventslieder and English Christmas Carols were the basis for the ambience created in the High Cathedral in Paderborn, which is so typcial of the annnual celebration of the German-British Christmas Carol Service. The Carol Service takes place in December every year for 30 years now. Moments of joy and a feeeling of companionship exist among the many participants and visitors of the famous Christmas Carol Service, which still took place in 2020 despite the large deployment of the British Army from Germany to the UK.
"Different but as wonderful as always", was the impression of the very few visitors:
The Anglo-German Club Paderborn and the British Forces still located still in Paderborn had invited a small number of people to the High Cathedral. The impression of a full audience in the High Cathedral was created by the members of the participating choirs, who were conducted by Christian Nolden.
Much bigger than in the High Cathedral though was the audience of those who followed the online event on the internet. The Christmas Carol Service had been streamed as a live event via the Archdiocese of Paderborn's YouTube channel. The digital count stopped at 5,472. Not only people from Paderborn watched the service but also many members of the British Forces, who have so many fond memories of the city of Paderborn, its High Cathedral and the Weihnachtsmarkt and who could participate from their current base and watch and enjoy the service via the internet.
The oecumenic sercice was celebrated by Weihbischof Matthias König, Dr. Eckhard Düker, priest of the Abdinghofkirche and Reverend R.J. Downes, Garrison Chaplain of the British Forces. The boy's choir Chor der Dommusik conducted by Domkapellmeister Thomas Berning filled the air with their voices and was accompanied on the cathedral organ by Markus Maurer.
Programme Anglo-German Christmas-Carol-Service
Link to the stream of the Christmas Carol Service 2020: https://fb.watch/2r4KZGqzQ1/
Instead of the usual collections, donations to the Bahnhofsmission Paderborn (train station mission) are requested by bank transfer. This is intended to provide those in need with sleeping bags during this cold season. The donation account of the Diakonie Paderborn-Höxter at the VerbundVolksbank OWL has the IBAN DE92 4726 0121 8834 1335 00. Please indicate: "Bahnhofsmission Paderborn sleeping bags". Thank you very much!
(Photo by Jürgen Behlke)
From left to right:
Reverend Richard J. Downes, Col. Tim Hill, Angie Reeh (Anglo-German Club Paderborn), Weihbischof Matthias König and Christian Nolden (Musical conception)
« back