06. December 2021
Anglo-German Christmas Carol Service digital for everyone on 9 December at 7 pm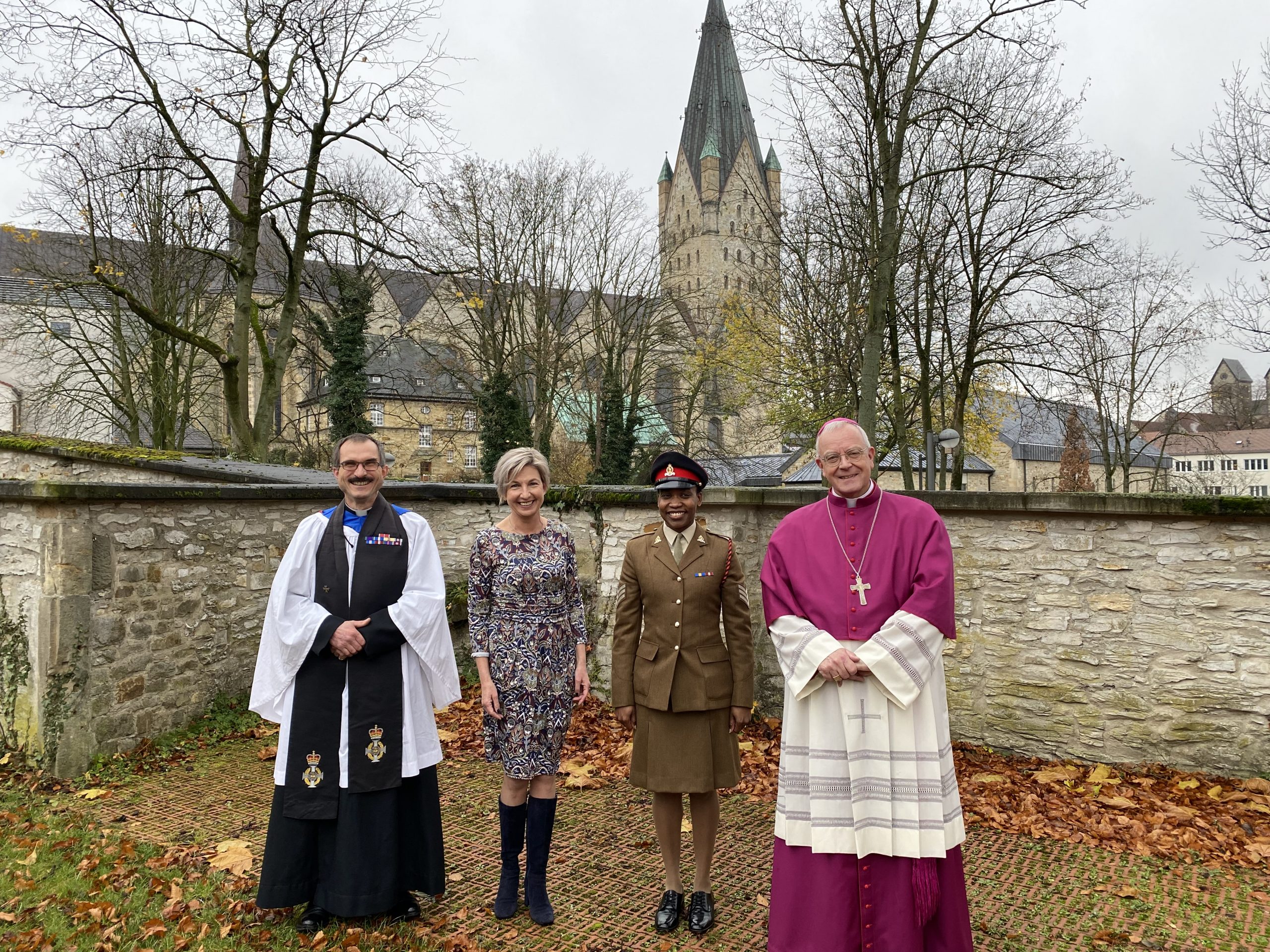 The tradition of the popular Anglo-German Christmas Carol Service will be maintained in Paderborn this year. The Christmas Carol Service will take place on Thursday 9 December 2021 at 7pm in the High Cathedral, and it will be streamed. Unfortunately, the service will not be open to the public this year, but it will once again come live to viewers' homes via the YouTube channel of the Archdiocese of Paderborn at www.erzbistum-paderborn.de . Last year the stream reached a remarkable 10,000 clicks all over the world.
The ecumenical service is based on nine readings, alternating between German and English, which bring to life the history of salvation from the Old to the New Testament and culminate in the Gospel of the birth of Jesus Christ. The biblical texts are framed by German "Weihnachtslieder" and popular English carols, which in their musical and melodic way carry the message of promise and fulfilment into the hearts of the people.
A special highlight is the military band British Army Band Colchester under the  direction of Major Lauren Petritz-Watts from Great Britain, with which the British Army contributes to the festive atmosphere. Aileen Baker will perform as soloist. Cathedral organist Tobias Aehlig will play the organ in the High Cathedral.
"Many say that Christmas in Paderborn cannot come without the Christmas Carol Service. We have therefore decided to hold the popular service again this year to give people hope and bring Christmas joy into their living rooms," says Angie Reeh, chairwoman of the Anglo-German Club Paderborn. For the few participants admitted, the rule is strictly 2G-plus.
The programme booklet will be published on the homepage of the Archdiocese of Paderborn and is available here as well: Programm CCS 2021
In addition, social projects will again be supported – this year the PaderMahlZeit in the specially opened "Gasthaus" on Heiersstraße. People in need receive a free lunch three times a week.  Donations are welcome: Account of the association "Unser Hochstift rückt zusammen e. V.", Sparkasse Paderborn-Detmold, IBAN DE90 4765 0130 1010 1462 39, reference: "PaderMahlZeit CCS 2021".
The Army Benevolent Fund (ABF) – The Soldiers' Charity – is the British Army's national charity; for soldiers, past and present, and their families for life. The ABF stands at the forefront of support for the British Army family, last year supporting 60,000 people in 63 countries around the world. From helping wounded soldiers to adapt to life after service, to assisting elderly veterans to keep their independence, the ABF supports the British Army family when they need it, offering support in six key areas: independent living, elderly care, education and employability, mental fitness, families and housing. Donation account: ABF The Soldiers' Charity; IBAN: GB22BARC20000073122158, reference: "Paderborn CCS 2021".
Photo:
Once again this year, the Anglo-German Christmas Service will be broadcast live into living rooms: (from left) Padre Richard Downes, Sergeant Flo Nervais (British Army Germany), Angie Reeh (Anglo-Gernan Club Paderborn) and Auxiliary Bishop Matthias König. Photo: Jürgen Behlke
« back