18. June 2022
Marie Horochowik wins the 2022 Reading Competition of the Anglo-German Club Paderborn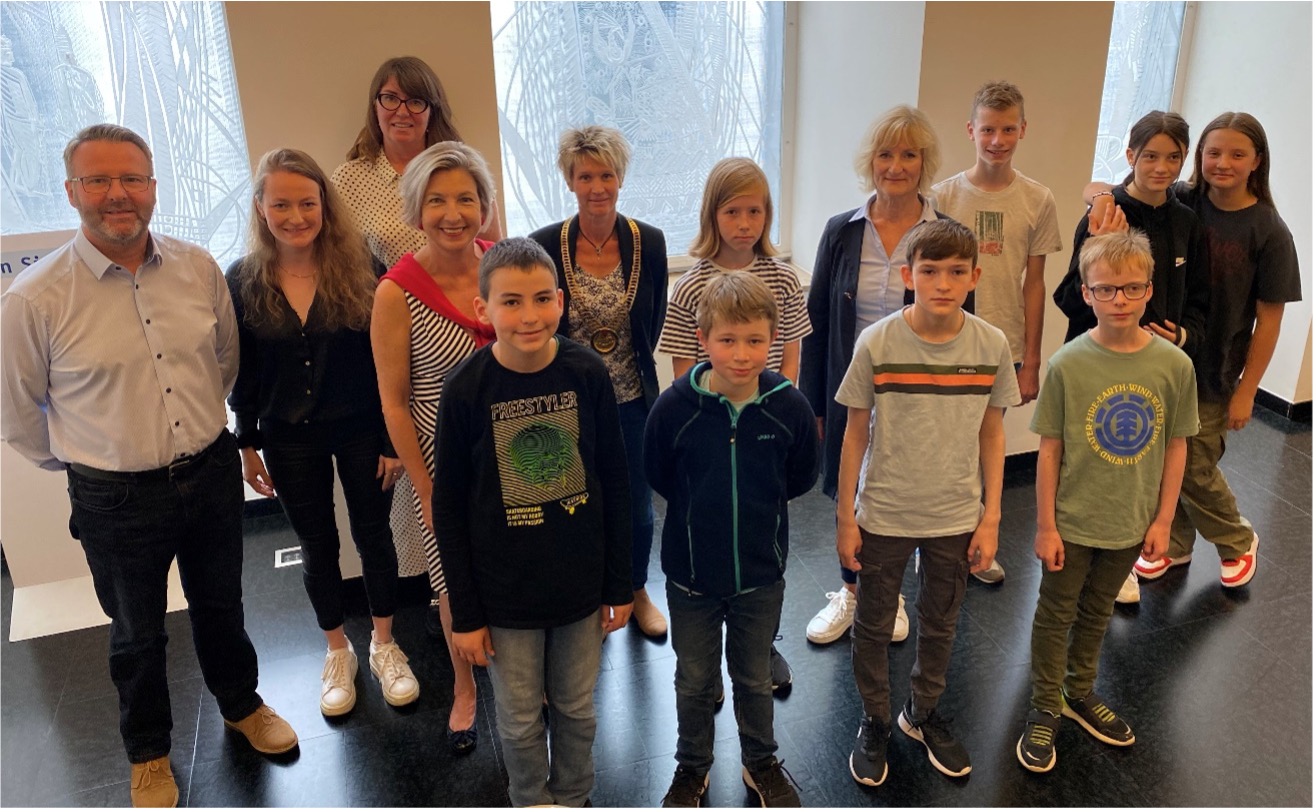 In this year's English Reading Competition of the Anglo-German Club Paderborn, eight pupils competed against each other in the Great Hall of the Historic Town Hall.
The 6th grade students from four Paderborn grammar schools (Gymnasium St. Michael, Pelizaeus-Gymnasium, Reismann-Gymnasium and Gymnasium Theodorianum) had previously won school-internal competitions. In the first round, they read self-selected English texts and in the second round, they were presented with an English book they did not know. The jury, consisting of the English teachers Lindsay McCran and Pia Milsch as well as Chris McCarthy, deputy headmaster of the Attenborough School Sennelager, were deeply impressed by the high level of the reading presentations. At the subsequent award ceremony, Deputy Mayor Sabine Kramm presented the finalists with certificates as well as book vouchers and non-cash prizes.
Marie Horochowik (Reismann-Gymnasium) won the competition. Georgi Stojanovski (Pelizaeus-Gymnasium) and Ben Poprawa (Gymnasium St. Michael) took second and third place respectively.
The competition was launched in 2021 by English teacher Ina Maiwald and could only take place digitally in the first year. She is all the more pleased that the final was now possible live and in the presence of some parents and teachers. Sabine Kramm and Angie Reeh, the chairwoman of the Anglo-German Club Paderborn, both emphasised how important the English language is for communication with other people worldwide.
Photo:
Back row (from left to right): Chris McCarthy, Pia Milsch, Lindsay McCran (jury members), Angie Reeh (Chairwoman Anglo-German Club), Sabine Kramm (Deputy Mayor), Frido Schulte, Ina Maiwald (Competition Manager Anglo-German Club), Ben Poprawa, Marie Horochowik, Alena Wiebe
Front row (from left to right): Georgi Stojanovski, Daniel Osterholz, Julian Stroiczek, Linus Wasser
Since its foundation in 1965, the Anglo-German Club Paderborn has contributed a lot to the common understanding and coexistence of British and German citizens in Paderborn and offers a platform for friendly and cultural exchange.
« back