19. June 2023
Tassnim Sughayer from Pelizaeus-Gymnasium wins 3rd Reading Competition of the Anglo-German Club Paderborn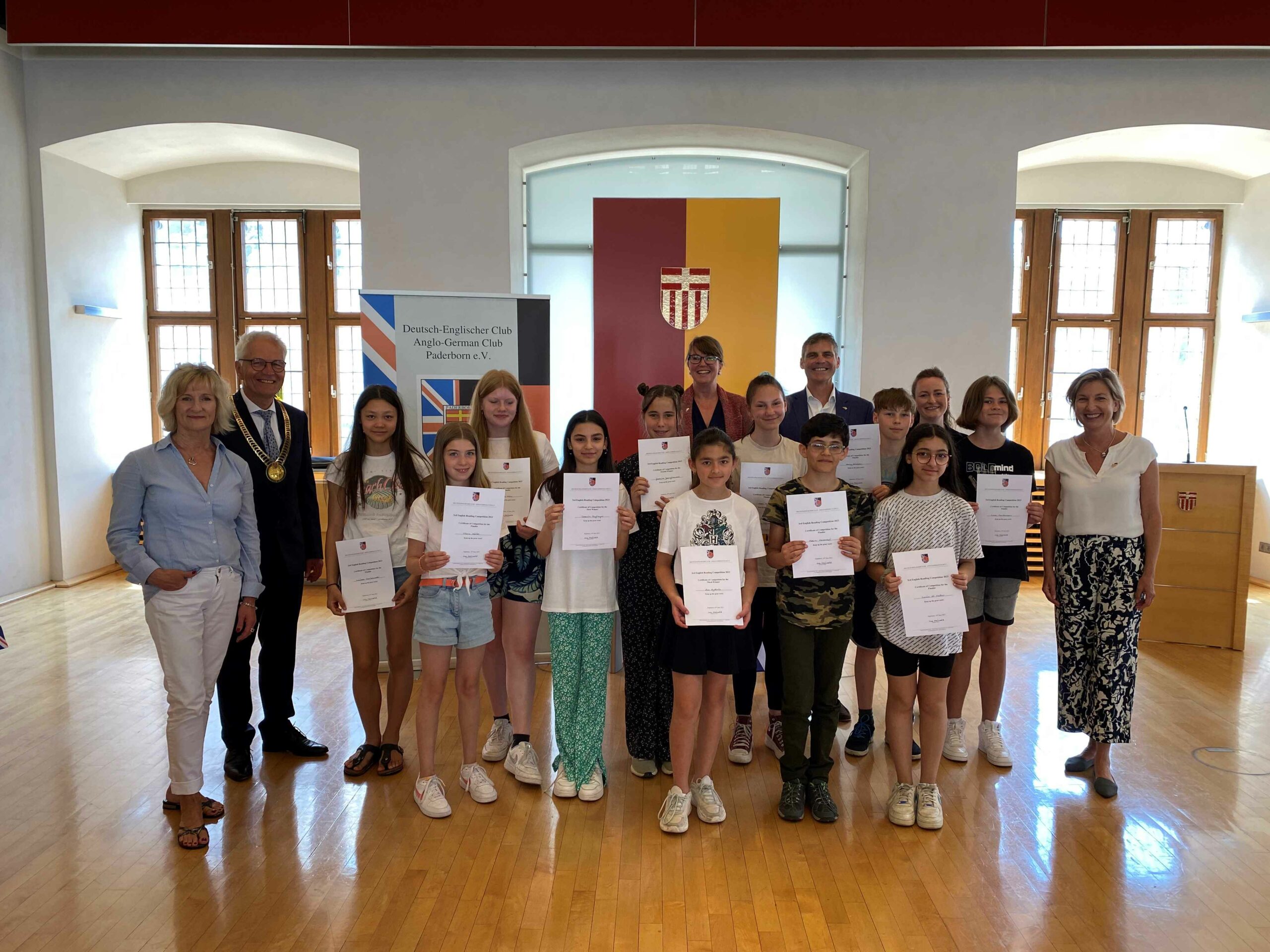 In the reading competition of the Anglo-German Club Paderborn, ten 6th grade students from six grammar schools in Paderborn and the surrounding area competed against each other in the Great Hall of the Historic Town Hall. Beforehand, the participants had won elimination competitions at their schools. In Paderborn, the Pelizaeus, Reismann, Schloss Neuhaus and St. Michael grammar schools as well as the Mauritius grammar school in Büren and the St. Xaver grammar school in Bad Driburg took part.
In the competition, the pupils read self-selected English texts in the first round and from an English book unknown to them in the second round. The jury, consisting of the English teachers Lindsay McCran and Pia Milsch as well as Lt. Col. Andy McCran, officer of the British Army in Münster and geography teacher with experience in British schools, was deeply impressed by the high level of the reading presentations.
At the subsequent award ceremony, Deputy Mayor Martin Pantke awarded the finalists with certificates, book vouchers and gifts. Tassnim Sughayer (Pelizaeus-Gymnasium) won the competition. Jasmina Jesinghausen (Gymnasium St. Xaver) and Zoe Aydeniz (Mauritius-Gymnasium) took second and third place respectively.
The reading competition of the Anglo-German Club Paderborn (DEC) was initiated by Ina Maiwald, English teacher and leader at the Centre for Practical Teacher Training 2020. While the first competition could only be held digitally, she is pleased that the event could once again take place in presence.
« back